God's Powerful Word Is Medicine For Your Body
" A happy heart is good medicine and a joyful mind causes healing,
But a broken spirit dries up the bones." Proverbs 17:22 (AMP)

"My son, pay attention to what I say;  turn your ear to my words.  Do not let them out of your sight, keep them within your heart;  for they are life to those who find them and health to one's whole body."  Proverbs 4:20-22

Swallow God's Word as medicine!
As you swallow God's medicine (His Word) on a regular basis, just as you would any other scientific medicine, it will be life to you and health to your body.  The bible says in Psalm 103:2-3, "Praise the Lord, O my soul and forget not all His benefits- who forgives all your sins and heals all your diseases."  Wow! God heals all our diseases, not just one, two or three, but ALL. Praise God forevermore! ALLELUIA! Healing is one of God's gifts to us and we need to declare boldly that Jesus has already taken our sicknesses and infirmities. (Isaiah 53:4-5) If He has already taken them, then we must not let them reside in our bodies.
Child of God, keep praising God for sending His only begotten Son to pay the penalty for our sin and sicknesses. Jesus Christ is our great PHYSICIAN and with Him, there are no incurable diseases and viruses. Through the Word of God, take authority over the root of any sickness you may be facing and command its negative cells to die, in Jesus' most exalted name. AMEN! Rejoice always because healing is a fringe benefit for you and thank God for this amazing gift. Confess that every organ and tissue of your body functions perfectly as God has created it to function, in Jesus' precious name. As your body is the temple of the Holy Spirit, make a demand on your body to release the right chemicals for your body to be in perfect chemical balance. Command divine healing into your body, in Jesus' matchless name. AMEN!
 
Pray Before A Doctor's Consultation



Our God created doctors and gave them wisdom to do their work. HE is NOT against us going to see a doctor for treatment. Luke, who wrote one of the Gospels, was a doctor. Also, Jesus spoke about doctors in the parable of the Good Samaritan (Luke 10: 30-37). However, before we go  for a doctor's consultation, we need to pray for God to guide them in their diagnosis and treatment. Also we need to pray over any medication or surgical operation and trust God completely for our healing. HE is the ULTIMATE HEALER as He works through the doctors.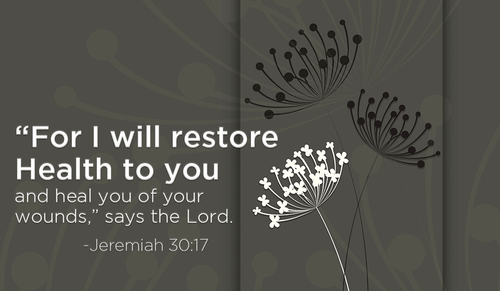 God has got the final say
Remember, the Word of God has got the ultimate power and the final authority. There is nothing more important to your faith than declaring what God has said about you, with your own voice. You are establishing what God has said to be true, concerning healing, even though it is not yet a reality in your body. It will definitely become a reality, if you do not give up on God's Word. AMEN
Child of God, I encourage you to search the scriptures for God's healing words and speak them on your body, as often as possible. Call those things that are not as though they were. (Romans 4:17)  Confess positivity into your body and stand on the potent Word of God. Have a heart of expectations from God and He will perform miracles for His own glory. His Word has to be first in your mouth and then in your heart. It is not a denial that sickness exists, as the enemy brings them on and not God. But you need to deny sickness the right to exist in your body because your body is the "Temple" of the Holy Spirit. The symptoms you are experiencing may be the fact but it is NOT the Truth at all. The truth is confirmed in Isaiah 53:4-5. Confess this scripture and claim it for your healing in Jesus' matchless' name. AMEN. Beloved, be encouraged, always.

Reject sicknesses and diseases in Jesus' name.
When you are sick and you speak God's Word, your body is listening to you and it will obey you, if you believe and do not doubt in your heart. I encourage you to use the Word of God, always, as it is the most powerful weapon at your disposal. Sicknesses and diseases may be a fact but the truth of the matter is that you were healed by the stripes of Jesus. Sicknesses and diseases are weapons of the enemy and the powerful Word of God says, "No weapon forged against you will prevail and you will refute every tongue that accuses you. This is the heritage of the servants of the Lord, and this is their vindication from me," declares the Lord." Isaiah 54:17
Don't accept that a sickness or disease has the right to stay in your body. Reject their presence in your body and stand boldly on the potent Word of God. You will never go wrong when you stand on the powerful Word of God and use His limitless power. God's Word is the Sword of the Spirit; use it for His glory. Call yourself healed, do not doubt and you will see yourself healed. You will experience that healing tangibly, in Jesus' most exalted name. Keep basking in His love and enjoy His presence and good health, always.
You have overcoming power through Jesus
As we seek God and wait on Him, we can experience a strengthening we never knew before. As we are victors in Christ Jesus, there is no need to be afraid. We have overcoming power through Jesus, who shed His precious blood for us on the cross. God's Word says in Revelations 12:11, "They overcame him (Satan) by the blood of the lamb (Jesus Christ) and by the word of their testimony; they did not love their lives so much as to shrink from death."  We need to stand firm as we are more than conquerors through Christ who loves us. There is power in the precious blood of Jesus and this limitless power is available for your use on a daily basis; use it for His glory. Beloved, be encouraged!

Positive Confessions Are Very Powerful!
"Jesus went throughout Galilee, teaching in their synagogues, proclaiming the good news of the kingdom, and healing every disease and sickness among the people."  Matthew 4:23
"Jesus went through all the towns and villages, teaching in their synagogues, proclaiming the good news of the kingdom and healing every disease and sickness." Matthew 9:35
"And the people all tried to touch him, because power was coming from him and healing them all." Luke 6:19
"So they set out and went from village to village, proclaiming the good news and healing people everywhere."  Luke 9:6
"How God anointed Jesus of Nazareth with the Holy Spirit and power, and how he went around doing good and healing all who were under the power of the devil, because God was with him." Acts 10:38
"Surely he took up our pain and bore our suffering, yet we considered him punished by God, stricken by him, and afflicted. But he was pierced for our transgressions, he was crushed for our iniquities; the punishment that brought us peace was on him, and by his wounds we are healed." Isaiah 53:4-5
"He sent out his word and healed them; he rescued them from the grave."  Psalm 107:20
 "He himself bore our sins" in his body on the cross, so that we might die to sins and live for righteousness; "by his wounds you have been healed."  1 Peter 2:24
"But I will restore you to health and heal your wounds,' declares the Lord"  Jeremiah 30:17A
"'Nevertheless, I will bring health and healing to it; I will heal my people and will let them enjoy abundant peace and security." Jeremiah 33:6 
"Then your light will break forth like the dawn, and your healing will quickly appear; then your righteousness will go before you, and the glory of the Lord will be your rear guard." Isaiah 58:8
"He (God) said "If you listen carefully to the Lord your God and do what is right in his eyes, if you pay attention to his commands and keep all his decrees, I will not bring on you any of the diseases I brought on the Egyptians, for I am the Lord, who heals you." Exodus 15:26
Positive Confessions Are Very Powerful!
In Jesus' matchless name. AMEN!
*
                  Alleluia!!!